Lola&Lykke
Smart Electric Breast Pump

FAQs

Click on a topic to view all FAQs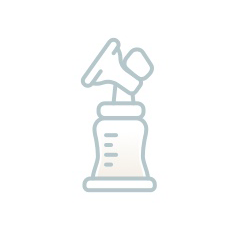 Why Lola&Lykke
Sizing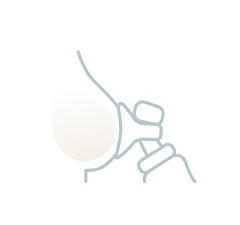 Getting Started
Using Milk Bags
Troubleshooting
Warranty & Returns
There are two types of breast pumps: manual and electric. Manual pumps are best for mums who won't need to pump all that often. Manual pumps are often cheaper but do not offer the same range of functionalities as electric pumps and require you to use both hands whilst pumping.
Electric pumps are a better choice for mums who will pump regularly or exclusively so you don't have the strenuous task of pumping manually all the time. Ultimately, you need to choose a breast pump that fits your needs and lifestyle.
With our rechargeable electric breast pump, you will benefit from a closed system which prevents your breast milk from backing up into the motor and contaminating your milk, unlike open system breast pumps.
The Lola&Lykke Smart Electric Breast Pump has been voted for by parents as the best breast pump because of its performance, style and adaptability for mums who need to pump anytime, anywhere. Available accessories such as the Lola&Lykke breast milk storage bags, make storing and feeding even simpler – you can pump straight into the bag and feed your baby from it too with our handy adaptors.
Good news, yes it is! The Lola&Lykke single electric breast pump gives you complete flexibility so you can pump efficiently and achieve your breastfeeding goals.
Whether you want to increase your milk supply, pump exclusively, or lessen your milk supply, the 6 stimulation settings and 9 expression modes will help you to accomplish this. Most people assume that pumping at a higher suction level will produce more milk, but this isn't the case. Find a setting that is comfortable for you, with the correct breast shield size to optimise your milk production.
The memory function on the smart touch screen makes tracking and recording pumping sessions a breeze, helping you to establish a routine. If you're pumping exclusively, you will need to pump at least 8-times a day (including at night).
It takes around 3-5 days before you can see an increase in your milk supply, especially soon after birth as your milk comes in. Stay patient and the milk will flow!
The Lola&Lykke Smart Electric Breast Pump is made up of 5 parts:
Motor Unit
Cap (for silicone breast shield)
Breast shield (size 24mm included as standard)
Connector with Suction Bowl
Valve
Also included in the box with your single electric breast pump are:
NaturalFlow Baby Bottle with two newborn teats (0+ slow flow)
USB charging cable
Breast pump dust bag
Breast pump stand (for the bottle to sit in)
If you need any spare parts for your rechargeable electric breast pump, you can purchase our Complete Breast Pump Spare Set and accompanying accessories from our website.
Our pump works with all breast sizes. The size of your breasts doesn't determine your ability to produce breast milk. The amount of fatty tissue varies among women, but a mum with smaller breasts can have just as much milk supply as a mum with larger breasts. The fatty tissue doesn't have anything to do with milk production – it's the mammary glands, located in glandular tissue, which are responsible for the production of breast milk. 
Stimulation. Expression. Automatic. Memory.
The first two phases will be used to express your breast milk and the last two phases are to help you track and record pumping sessions.
Our handheld breast pump weighs approximately 300grams. You can support the pump and be hands-free by wearing a feeding bra that will support this weight. You will need to also compensate for the weight of the milk too, so allow for 500grams.
It's important to note too, that the Lola&Lykke Smart Electric Breast Pump complement all breast sizes. The size of your breasts will not determine how much milk you can produce, it is simply the fatty tissue that varies among women and has nothing to do with milk production.
Breast shields are sometimes also called flanges. While comfort is often the driving determinant in figuring out the right size, using the correct sized breast shield will also make your pumping more efficient. Pumping can be hard enough on its own but having an unfitting shield may impact the amount of milk you are able to pump. It's good to keep in mind that the right breast shield size may change over the course of your pumping and nursing journey, so it's a good idea to check occasionally you are still using the right size. Or you might find that your breasts need different shield sizes – that's normal too. Remember, pumping shouldn't hurt!
The starting point for choosing the correct breast shield is to determine your optimal size based on your nipple diameter.
If your nipple measures <17 mm in diameter, your recommended breast shield size is 21 mm.
If your nipple measures <20 mm in diameter, your recommended breast shield size is 24 mm.
If your nipple measures <25 mm in diameter, your recommended breast shield size is 27 mm.
Check out our full sizing guide here.
The Lola&Lykke pump comes with a 24mm breast shield.
We also offer breast shields in sizes 21mm, 24mm, and 27mm to purchase separately.
To assemble your electric breast pump:
Press the suction bowl and motor unit into the connector. Make sure the motor unit is attached correctly, the charging port should face away from your breast while pumping.
Push the breast shield onto the connector.
Put the valve into the connector.
Lock the milk bottle into the connector by rotating clockwise until tight.
To use your electric breast pump:
Before first use, make sure you've cleaned, sterilised, and charged the pump for 2 hours.
Place the pump on your breast and turn on the pump by tapping the power button.
Your breast pump will begin in the Stimulation Phase, and automatically switch to the Expression phase after 2 minutes.
Using the pump's smart touch screen, you can easily adjust the settings and find your comfortable pumping levels.
For further information, please read the product manual that comes with the pump or visit the digital version here.
Washing and sterilising are two different actions. They must be done separately to protect you, your baby, and the performance of your breast pump.
Wash – To clean the surfaces of the parts by physically removing contamination.
Separate and wash all parts that are exposed to breast milk immediately after use to remove breast milk residue and prevent any growth of bacteria.
Only use drinking-quality tap or bottled water for cleaning.
When cleaning the valves do not use small objects such as brushes.
Be careful not to puncture.
It's not recommended to wash the parts in the dishwasher.
Do NOT wash the motor unit. Use a damp (not wet) cloth to wipe down the pump body if necessary.
Sterilise - To kill living organisms, such as bacteria or viruses, that may be present on the surfaces of the parts.
To sterilise, we recommend boiling your pump parts (except for the motor unit) before first use and after every use.
Other sanitizing methods work too, such as cold-water tablets, steam sterilisers and UV sterilisers.
Avoid the microwave as prolonged exposure to humid heat may cause damage.
Please note: Whilst the breast pump parts are not suitable for dishwashers, the NaturalFlow Baby Bottles can be cleaned in a dishwasher up to 65°C.
For further information, please refer to the product manual that comes with the pump.
The stimulation mode is a faster, shorter rhythm that mimics your baby's natural sucking pattern to stimulate your milk flow. There are 6 stimulation levels to choose from, each lasting for 2 minutes.
The expression mode has a slower, longer rhythm which gently collects the milk from your breast. There are 9 expression levels to choose from. The length of time varies on the volume of breast milk you produce and want to express.
To start with, find a level that is comfortable for you. The aim is to reduce the pressure on your breast and optimise milk flow. Throughout your breastfeeding journey, you may use different levels of stimulation and expression as you go through postpartum recovery and experience hormonal changes.
The Lola&Lykke single breast pump cannot be turned into a double breast pump, however, you can use two single breast pumps alongside each other.
Included in your breast pump box, you have one NaturalFlow Baby Bottle and two newborn teats. You can buy additional bottles and teats from our website.
Our pump is also compatible with traditional Philips Avent bottles.
To pump straight into the bag, attach the adapter to the milk bag and then attach this to the breast pump.
When you'rere pumping, make sure you don't overfill the bag as you will need to allow space for expansion when you freeze the breast milk.
For fast freezing and thawing, lay the bag flat. Remember to label and date the bag for future reference!
To feed your baby directly from the milk bag, simply attach the bottle teat to it with the adapter. Never leave your baby unattended with a feeding bag.
As the milk storage bags are pre-sterilised, they are single-use products and will need to be disposed of after first use.
To preserve the components of the breast milk, thaw in the refrigerator overnight or by holding the bag under running warm water (max. 37 °). Gently shake the bag to blend any fat that has separated. Thawed breast milk is safe in the refrigerator for 24 hours.
Do not thaw frozen breastmilk in a microwave oven or in a pan of boiling water (danger of burning).
The seams of the milk bags are heat-sealed. This means that they don't always automatically open up to allow for maximum capacity to be pumped into the bag.
Please open the bottom carefully before use. As a hint, it's easier to open the bags completely by squeezing when they already have some milk inside.
The best time to express is during a feed or after the first feed of the day. In the early days of breastfeeding, when your supply is still becoming established, it is common to express a low volume of breast milk.
If you find that the suction level is low, check if the valve has any cracks. If it does, this will need to be replaced and fitted correctly for the breast pump to perform correctly. A spare valve is included in the box but if you have any queries, please contact our Customer Service team: info@lolalykke.com
You can also check that you are wearing the correct size breast shield with your pump. Check the measuring guide above to determine which size will give you the best fit.
It's worth resizing the shield if you struggle with the following:
Your nipple is rubbing the sides of the breast shield tunnel to the point of causing discomfort.
You see excessive areola being pulled into the breast shield tunnel.
You have redness on or at the base of the nipple during and/or after pumping.
Your nipples or areola are turning white during and/or after pumping.
Your breasts still feel full after pumping.
First, check if the valve has any cracks. Try to replace the extra valve that was included the package. Make sure that all the pump's parts are assembled correctly. 
Check that you are using the correct breast shield size for your Lola&Lykke pump: we have three different sizes to choose from 21 mm, 24 mm, and 27 mm. Having the correct flange size will not only give you a comfortable pumping experience but it will also make your pumping more efficient. The standard breast shield is sized 24mm and it is included in the package. If the problem remains, feel free to reach us at info@lolalykke.com, we are happy to help! 
Yes, the pump comes with a 2-year warranty. If you have problems or are unsatisfied with the pump, please contact our Customer Service at info@lolalykke.com and we would be happy to help.
Europe and North America
We offer deliveries to Europe and North America from our online store.
EU (except Iceland, Norway, Switzerland, Cyprus, Malta, Islands of Spain, and Islands of Portugal) are free for orders over 49€.
UK deliveries are free for orders over 45£.
Finland shipping (Posti ) - 6.90 €
EU shipping (GLS) - 9.90 €
UK shipping (Parcel Force) - 9.90 €
Ireland shipping (An Post) - 6.90 €
Norway + Switzerland shipping (GLS) - 9.90 €
Cyprus + Malta shipping (GLS) - 19.90€
Iceland shipping (DHL, Express Worldwide) - from 19.90 €
Islands of Spain (Canary Islands, Baleares, Ceuta, and Melilla) - from 19.90€
Islands of Portugal (postal codes 9000000-9999999) - from 19.90€
USA + Canada shipping (DHL, Express Worldwide) - 9.90 $
Rest of the world
Rest of the world - We are unable to provide shipping outside Europe and North America at this time. Please contact us for further information at info@lolalykke.com.
Yes! We have authorised retail partners all over Europe. Find your nearest store here.
If you are not satisfied with an item that you have purchased at our online store, you can return your order within 30 days from your purchase date. Items must be in original condition, not worn and not washed. We offer easy returns within the EU and North America.
However, due to hygienic reasons, no breastfeeding product is returnable or refundable once its packaging has been opened or the product has been used. Once the box seal has been broken the breastfeeding product cannot be returned.
How Lola&Lykke Pump compares to the others
| | | | | | |
| --- | --- | --- | --- | --- | --- |
| | Lola&Lykke Pump | | Traditional Pumps | | Wearable pumps |
| 100% leak-proof | | | | | Some |
| Pump straight into milk bags | | | | | |
| Hospital-grade suction | | | Some | | |
| Fully wireless | | | | | |
| Touch screen display | | | | | |
| Access to expert advice | 24/7 lactation support | | | | |
| Mobile app control | Coming soon | | | | Some |